Congratulations to the 14U and 16U Junior players who got involved in the inaugural StreetX Fastest Junior Bear event yesterday.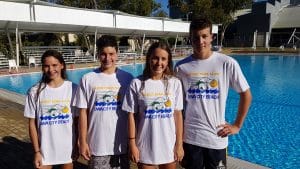 A big shout out to Jackie Vittino for all her work in organising the day and to Clare Barber, Lisa Lilleyman, Maryanne Marshall and our time keepers for helping out. Thank you! 
Also to the Fastest Bear founders Nathan and Simon Phillips, and the Fastest Oldest Bear Charlie Liggins who were on hand to inspire the next generation!! May this be the start of an annual Club event. 
See all the photos from the day below…..including the elegant Swan Relay!
So, just how fast are our Fastest Junior Bears over 33m?
RESULTS
14U BOYS
Thomas Michael – 19.00s
James Lantzke – 19.81
Josh Rasmussen – 20.30
Special  mentions to Jett Jaegar-Harvey who was Fastest Born 06 and made 14U final and Josh Rasmussen – Fastest B05
Andrew Barber – 16.78s
Flynn Mason – 17.32
Menno Talbot – 17.88
Special  mention to Declan Cook – Fastest B03
14U GIRLS
Bella Sayer – 19.87s
Alice Williams – 19.94
Zelma Koko – 20.16
Special mention to Gabrielle Sayer – Fastest B05
16U GIRLS
Jamie Cannon- 19.56s
Millie McFarlane – 20.88
Sami Rasmussen – 20.94
Special Mention to Sami Rasmussen = Fastest B03
LONGEST THROW
GIRLS 
14U – Zelma 
16U – Georgia 
BOYS
14U – Owen 
16 U – Billy (see the footage on our Insta page!)
How long will our Fastest Jnr Bear records stand for?!